On sale in Europe from November 2018
and in the USA from December 2018
NEW!!!


Violin Technique Books for Beginners
with MP3 CDs and smiley stickers

My First Technique Book
Level: Very Easy = Suzuki Books 1-2
Languages: German/English
70 pages and 115 MP3 files
ISBN 978-3-946872 01 6
My Second Technique Book
Level: Easy = Suzuki Books 2-3
Languages: German/English
72 pages and 92 MP3 files
ISBN 978-3-946872 02 3

Online Support
Download of all related MP3 files
Download of individual piano accompaniments in PDF-format. This list will be continually expanded.
Videos illustrating technical details
Videos showing excerpts from exercises and ensemble pieces during concerts
Further surprise downloads not to be disclosed yet!
Technical Exercises


Example pages and audio samples



My First Technique Book
Intensive preparation for and development of the most important
finger patterns in first position.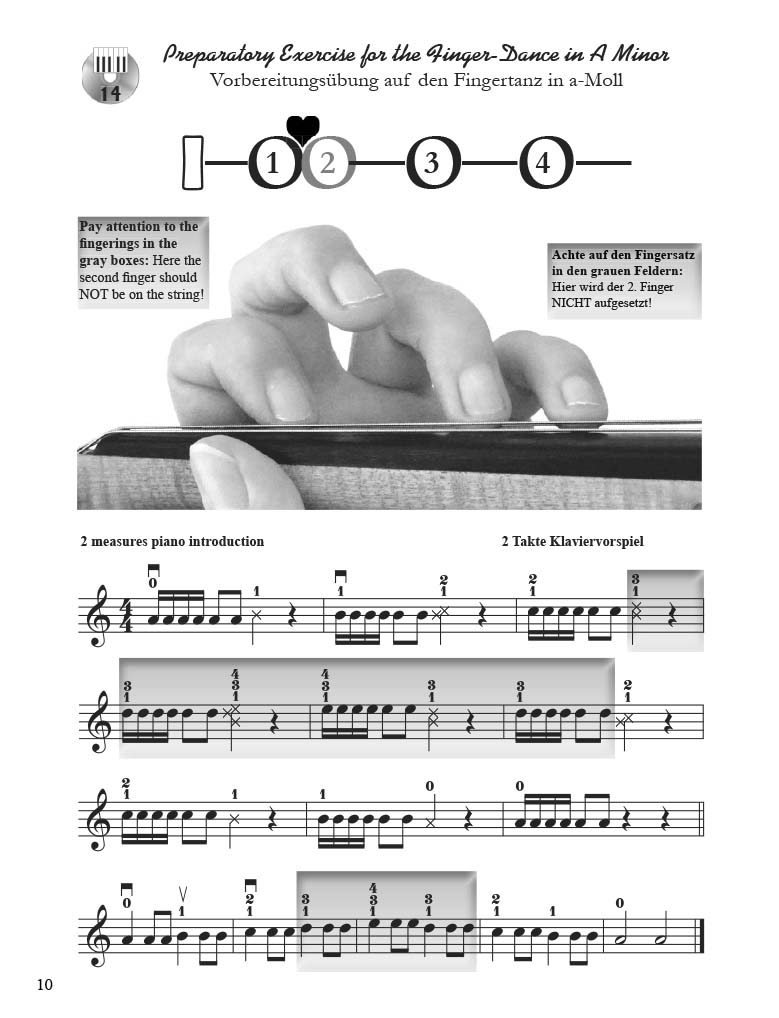 My First Technique Book
Here, the second finger pattern will be practiced at varied tempi
and on different strings.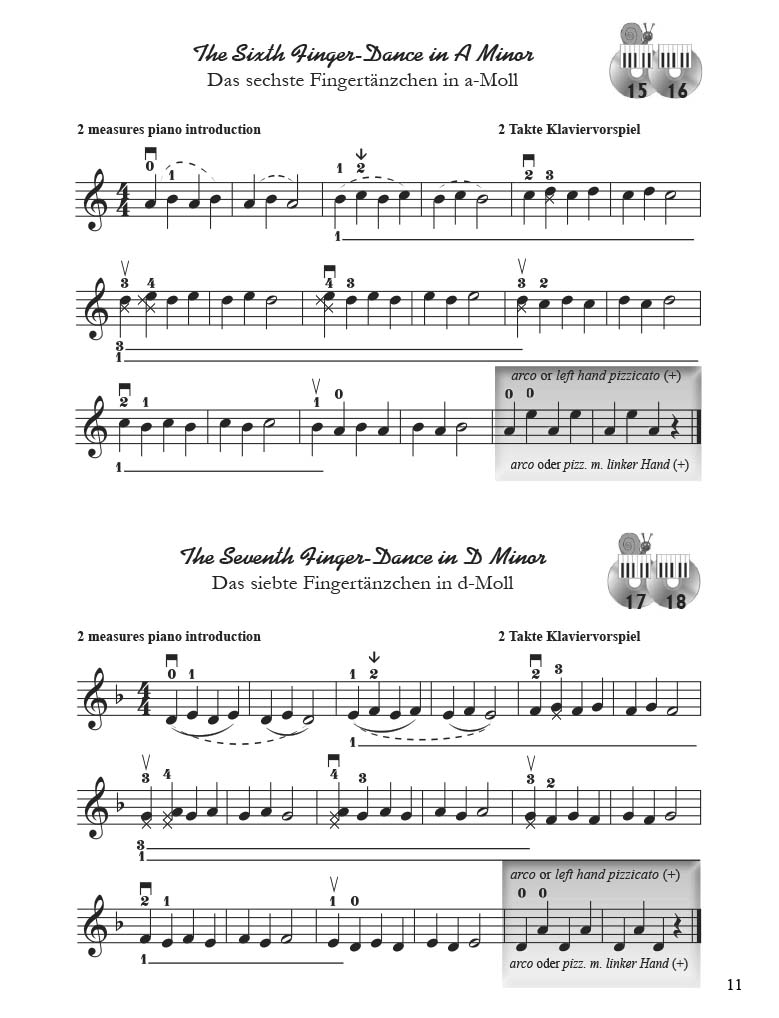 My First Technique Book
Familiarization with three different dynamic levels
and playing on three different points of contact.

My Second Technique Book
with numerous shifting exercises and pieces in the first three positions. When the student is able to play a piece securely and with a beautiful tone, he may put a green smiley sticker on the list at the end of the book.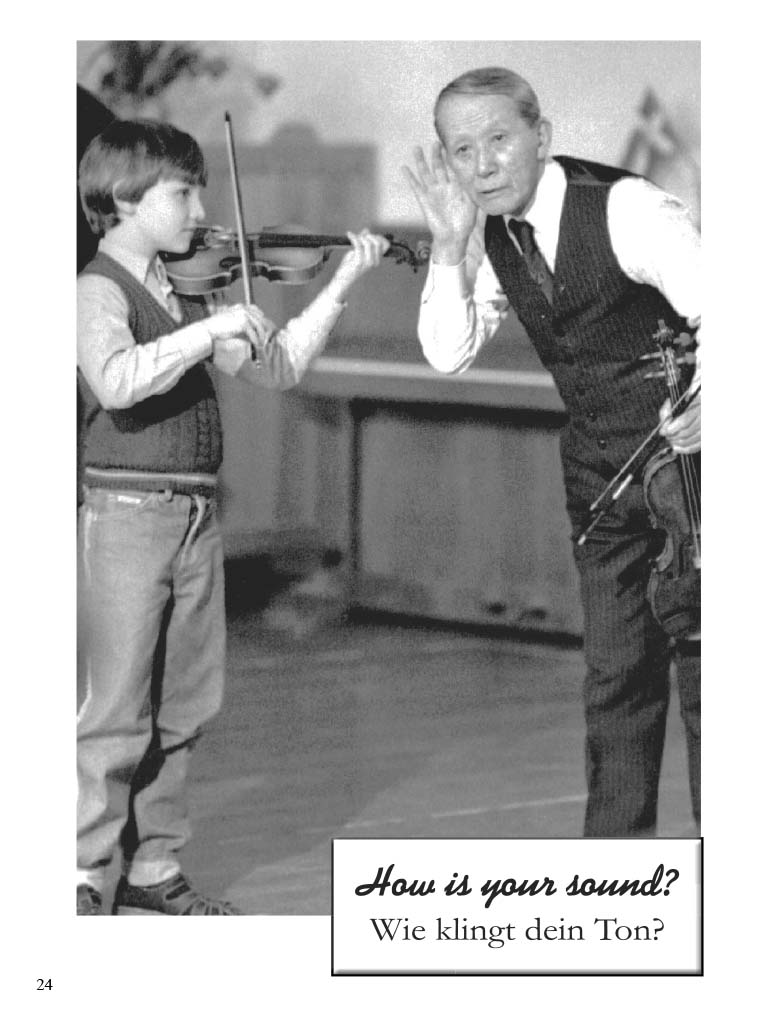 My Second Technique Book
With one- and two-octave scales and arpeggios.
Here, the student/pupil decides in which position he would like to play the C- Major scale, and the die indicates which one of the six variations is to be played.

My Second Technique Book
Introduction of double stops and arpeggios
in connection with numerous performing options for
the variations on a popular American folk song,
at three practice tempi.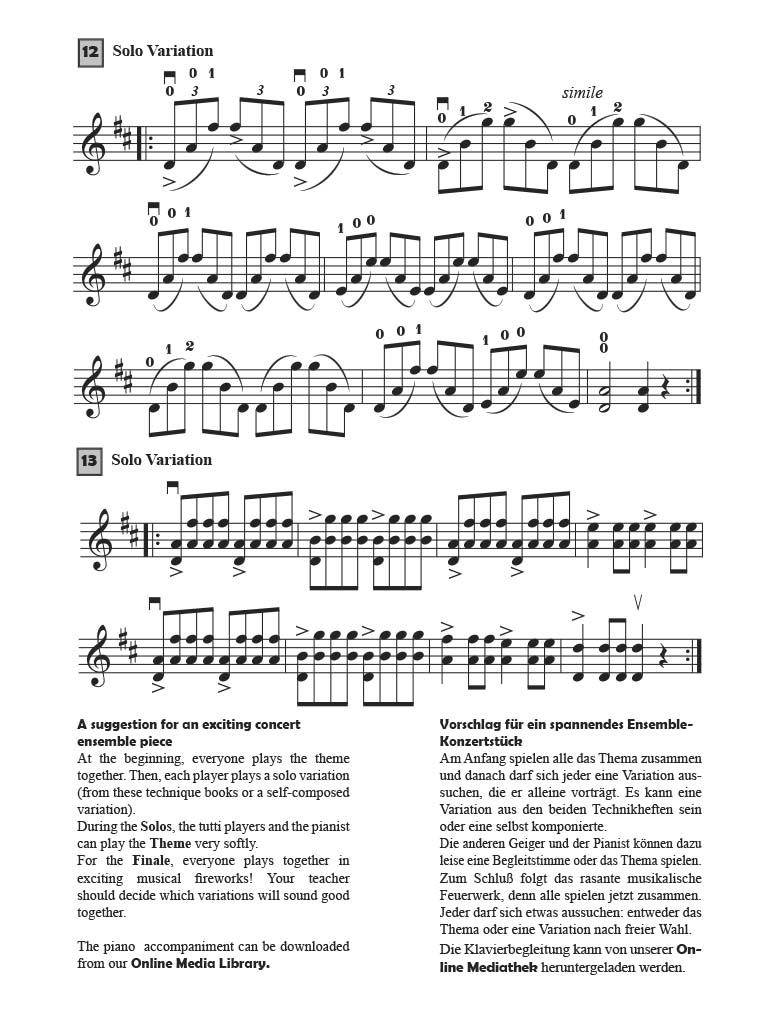 Recital and Ensemble Pieces
My First Technique Book
Contents
FITNESS TRAINING FOR THE FOURTH FINGER (pizzicato and harmonics)

FINGER-DANCES (intonation exercise, dropping and lifting fingers)

ROLLER-COASTER SONGS (fluency exercises)

EXERCISES WITH FOURTHS (arm control and left-hand training)

SYSTEMATIC WHOLE-BOW TRAINING

ONE & TWO OCTAVE SCALES (first position)

ONE & TWO OCTAVE ARPEGGIOS (first position)

BOWING VARIATIONS

My Second Technique Book
Contents
WARMING UP
THE THIRD POSITION
THE SECOND POSITION
THE FIRST THREE POSITIONS
HARMONICS OR "FLUTE TONES"
TRILLS
FIRST VIBRATO EXERCISES
TWO-OCTAVE SCALES & ARPEGGIOS (1st to 3rd position)
FIRST DOUBLE STOPS

Related items:
Digital Download of the Piano Accompaniments by David Andruss
Piano Accompaniments 1A & 1B – EASY VERSION
Piano Accompaniments 1A – ADVANCED VERSION (Pack 1)
Piano Accompaniments 1A – ADVANCED VERSION (Pack 2)
Piano Accompaniments 1A for Viola – EASY VERSION
Piano Accompaniments 1B – ADVANCED VERSION
Piano Accompaniments 2A and 2B – ADVANCED VERSION
Piano Accompaniments Paganini Motion / K. Wartberg
Piano Accompaniments Tonalization plus – ADVANCED VERSION
Piano Arrangement – Monkey Songs
Piano Arrangement – Quick-Change Artist
Piano Arrangement – Roller Coaster
Piano Arrangement – Song of the Angels
Piano Arrangement – Two Young Canaries
Piano Arrangement – English Canon f. 3 Violins
The following editions are currently being prepared:
Hungarian Edition
(ISTEX MUSIC PUBLICATIONS)
Spanish Edition
(ISTEX MUSIC PUBLICATIONS)
Italian Edition
(ISTEX MUSIC PUBLICATIONS)
Korean Edition
(Sekwang Music Publishing Company)