[This article is excerpted from the most recent Teach Suzuki podcast, which you can listen to here.]
Recently I attended the 2018 International Music Teachers Exchange (IMTEX) Conference in Remscheid, Germany. I have attended this conference for the past three years, and this year's conference was as exciting and satisfying as in past years. I teamed up with my friend Sue Hunt from Great Britain to present a talk about motivation. Sue offered ideas about motivating smaller children ("Waking Up Beginners") while I tackled the issue of motivating teenagers ("Keeping Teenagers Awake").
My reason to attend the conference is greater than my need to present a talk on a particular teaching topic. I attend for personal as well as professional reasons, both as a teacher and as an individual. I have discovered since my first conference in 2016 that I need to attend this conference for several reasons.
Community
We teachers sometimes lead an isolated existence. We certainly see people all the time and every week when our students and their family units attend lessons and group classes. I have discovered, however, that this is not the same as actually having relationships that go beyond the teaching experience. My interactions with my students and their parents are very pleasant, and we do often exchange personal pleasantries and good wishes about our personal lives. Still, a really close connection does not always come from my teaching interactions. And so my existence seems a bit isolated because most of my social interactions stem from work-related activities: teaching performing, rehearsing, faculty meetings. My personal interactions — a few minutes here and there before and after lessons, in university hallways, at rehearsal and performance intermissions — are momentary in time, and therefore not as in depth as I may need them to be to feel socially connected.
When I first attended the conference in 2016, I was immediately welcomed by so many strangers from all over the world. Sometimes we had a language in common, but just as often we did not share a common language and would have to resort to hand gestures and stuttered words of a language that we might understand only slightly. Still, the warmth and acceptance I experienced were genuine, and I found the social connection that I craved.
We were teachers — all of us. We shared a common vision of teaching to change the world. Some of us taught traditionally, some of us with the Suzuki Method. It did not matter. All were welcome here. I cannot stress enough the importance of welcoming everyone here, something that I believe personally is one of Dr. Suzuki's cornerstone philosophical principles. No one was excluded because of a lack of training or credentials. No one was excluded because of location or experience. All were welcome to come and share. And what a rich experience we all got as a result!
My first year I may have hugged closely to my friend Sue Hunt from Great Britain. We had a common language, and I had interviewed Sue years before for this blog. [You can read that interview here]. We knew each other from that interview and got to know each other even better at the conference. Sue knew the ropes at the conference and was able to steer me to the pathway entrances outside the academy so that we could enjoy long walks together in the nearby forest area, and Sue could indulge her iPhone photography skills.
I gained confidence as time went along, and I would sit down at a table with someone I did not know and ask, "Deutsch oder Englisch"? ["German or English"?]. Usually everyone was happy to talk in English. One of my most memorable conversations took place with someone who spoke only German. I did my best with my rusty high school language, but I finally broke free of my grammar worries to talk in single word phrases. I started talking about my eight miniature long-haired Dachshunds; I can talk about them in several languages. I wound up grabbing my iPhone and illustrating my conversational forays with photos. Between my photos, my stilted and stuttered Germany vocabulary, and the generous spirit of my new friend Ina, we were able to have a conversation and enjoy being together. She asked me questions about my students, and I had photos to show her to demonstrate my teaching ideas and methods. We had a lovely time together!
I recall describing one of my dogs — the only short-haired miniature dachshund I have — and I attempted to explain how his personality was different than the other dogs, that short-haired dachshunds have this personality quirk of stubbornness. I could not recall the German word for stubborn (stur), but I managed to describe his typical stubborn behavior to my new friend Ina.
"Dummkopf!" she told me. (fool!). Yes, my Kaiser dog was certainly a dummkopf! And so my emails from my German friends would thereafter end with, "Give my best to Dummkopf!"
Fast forward to the 2018 conference. I sat down once again with my friend Ina, who was sitting with another young woman that I did not recognize from previous conferences. My friend introduced her and then we got started with our usual conversation. This time I had practiced my German, so I had much more language confidence to speak up, but before long, out came the iPhone and new pictures to share. My friend Ina announced to her friend, "See?" followed by a German explanation that I would show pictures of students and dogs and how I use special toys and teaching aids with my students. Then my friend declared that she had brought me some special toys to give me to use with my students, and I exchanged the one that I had brought for her.
That relationship that I have just described is one of many very special conversations that I have with my IMTEX conference friends. I have similar stories to relate about teachers from Italy (Arjada, Silvia, & Sara) and Albania (Marjana), Ireland (Noelle) and Spain (Isabel), Switzerland and Sweden (Eva), and Nigeria (David) — just a few of the many places represented. Along with special relationships, the conference offered a rich experience of information sharing and opportunities to discuss teaching problems and create solutions.
Information and Education

The keynote presenter for a second year was Mimi Zweig from the Indiana University String Academy. Mimi spoke in depth about the foundation of string playing (physical set up, teaching philosophy, basic bowing strokes, left hand shape, shifting, vibrato, double stops, and ensemble playing).
Conference attendees observed Mimi as she taught several lessons to students of various ages and levels. We explored the teaching points in several Kreutzer études. We asked questions.
We explored our own physical set ups with our instruments, and under Mimi's watchful eye, many teachers explored changes and new ideas. You can learn more about Mimi's pedagogy at her website stringpedagogy.com.
My First Technique Book
Here, the second finger pattern will be practiced at varied tempi
and on different strings.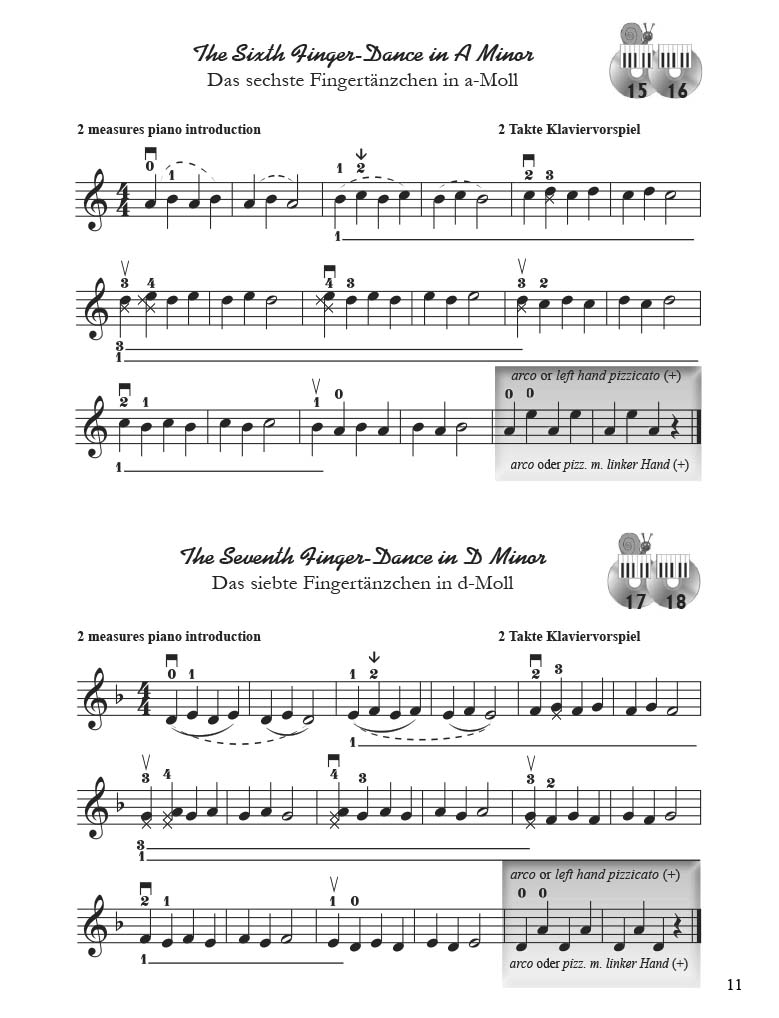 Along with Mimi's thorough presentation, other presenters offered informative sessions:
the many teaching points of Corelli's La Folia

the building blocks of the Suzuki Method

Paul Rolland's Principles of Motion, rhythm

basic teaching points for Suzuki violin book 1A

left hand preparation and scales from books 1-3 (introductory and advanced student levels)

shifting-trills-vibrato

musical preparation exercises

arpeggios

repertoire and technique

mixed-level string ensemble

music instruction with ADHS

prevention of lower back pain in violin playing

using technology for successful home and lesson practices

whole bow training.
New Teaching Resources
There were several opportunities to collaborate with other conference participants. One evening, we gathered to present two new books by Kerstin Wartberg — My First Technique Book and My Second Technique Book. Once again, Kerstin has produced books that will supplement any teaching program in terms of violin technique for young violin students. I will spend more time exploring these books and Kerstin's contributions to string pedagogy in future articles. We enjoyed our few opportunities to work together to present material from these new works.
Eva Belvelin from Sweden also presented her new book in English, Little Things for Little Strings. Available in the past in Swedish, this new English version book is also an excellent addition to beginning string pedagogy. I have interviewed Eva for the Teach Suzuki podcast to tell us more about her new English version of the very popular Swedish teaching book. You can listen to that episode and examples from Eva's materials here. I will also post more information about Eva and her new book in a subsequent blog article when the books become available here in the United States.
Approximately 125 teachers from 23 countries attended the 10th annual IMTEX conference in early November 2018.
This is a diverse group of teachers with a vast body of knowledge, experience, and ideas. I came home from the experience with pages of notes about new ideas, new solutions, and new Facebook and email friends.
I am never the same person when I return, and I look forward to sharing my wealthy experience from the conference with my studio families and teaching colleagues.
I know that our dear director, Kerstin Wartberg, will provide us with videos from the conference, and I hope my readers have an opportunity to share in my joy of attending. I highly recommend Kerstin's new books as well. They are currently available in Europe and in the United States (Shar Music). I plan to spend more time in the future talking about the wealth of material contained in these books, and I know that many teachers will be so grateful for the help that these books will provide. Recently Kerstin has posted videos and announcements regarding the recent conference, including a statement from Mimi Zweig and videos that demonstrate a few items from Kerstin's new books. Visit the IMTEX Facebook Announcements to enjoy these videos.
There is a way for us teachers to stay connected through the year. There is a healthy Facebook community (IMTEX) and an online library of resources available here.
I look forward to this conference every year because of the renewed enthusiasm and sense of global connection that I receive by my participation. It is one of my favorite events all year, and I already look forward to next year.
Until next time,
Happy Practicing!
—– Paula —–
© 2018 by Paula E. Bird
SPANISH DANCE – SPANISCHER TANZ
Arranged by Gino Romero Ramirez, Mike Hoover and David Rodríguez Toledo